Little Details That'll Take Your Wedding to the Next Level
Our experience as an experienced wedding planner in Greece has shown us that a wedding day needs little details to spruce up the décor and create an unforgettable experience for both the couple and their guests. Wedding details go beyond décor to thoughtful bits and pieces that will make your guests' life easier and will add to the overall beauty factor of your wedding!
Wedding Entrance
Many brides focus on the altar and often forget about their grand entrance. A vintage door at the foot of the ceremony is a whimsical touch and symbolizes a welcome to all guests or the trees outside of your wedding can be decorated and look like a wedding entrance. Blending what's already there with thoughtfulness and decorative elements is what we do!
Wedding Table Numbers
No amount of décor is ever enough, and table numbers a lovely place to get creative! Personalize your table numbers with a photo of you and the groom at each table or amp up the personalization even more by corresponding the number with a fun fact about the two of you. Glass, mirrors, pots with plants of specially made table numbers will add a wow factor to your wedding day and will impress the guests!
Wedding Guest Programs
Dual-purpose guest programs are the way to go — that piece of paper gets more of your money's worth if it serves another function! We love programs that feature popsicle stick handles, perfect for guests to use as a fan when it gets too hot at an outdoor ceremony that is usually the case when you're planning a destination wedding in Greece!
Wedding Cocktails
Our motto as a luxury wedding planner in Greece to add the drama? Don't leave your cocktails as is — they're always more fun when dressed up!. Add burlap umbrellas and heart-stamped stirrers for a punch of whimsy, organic botanicals, or fancy popsicles: they will look great! Also, a Personalized cocktail napkin with a cute saying or the date to add a dash of pizazz is the metallic finish that always looks more lux!
Outdoor Relief
When throwing an outdoor wedding, it's easy to only focus on a contingency plan in the event of bad weather and forget about Mother Nature's other downside — bugs and the like. Create a relief station armed with bug spray, sunscreen, and hand sanitizer so your guests can enjoy your big day – especially when you have a destination wedding on a Greek island!
Wedding Selfie Station
Forgo the guest signings altogether and opt for a visual guest book. Leave a polaroid camera at the table so your guests can take a selfie as proof of their attendance and have them pin it up for a fun décor display. Our experience in wedding planning in Greece has dictated that when a polaroid camera gets involved, the fun triples!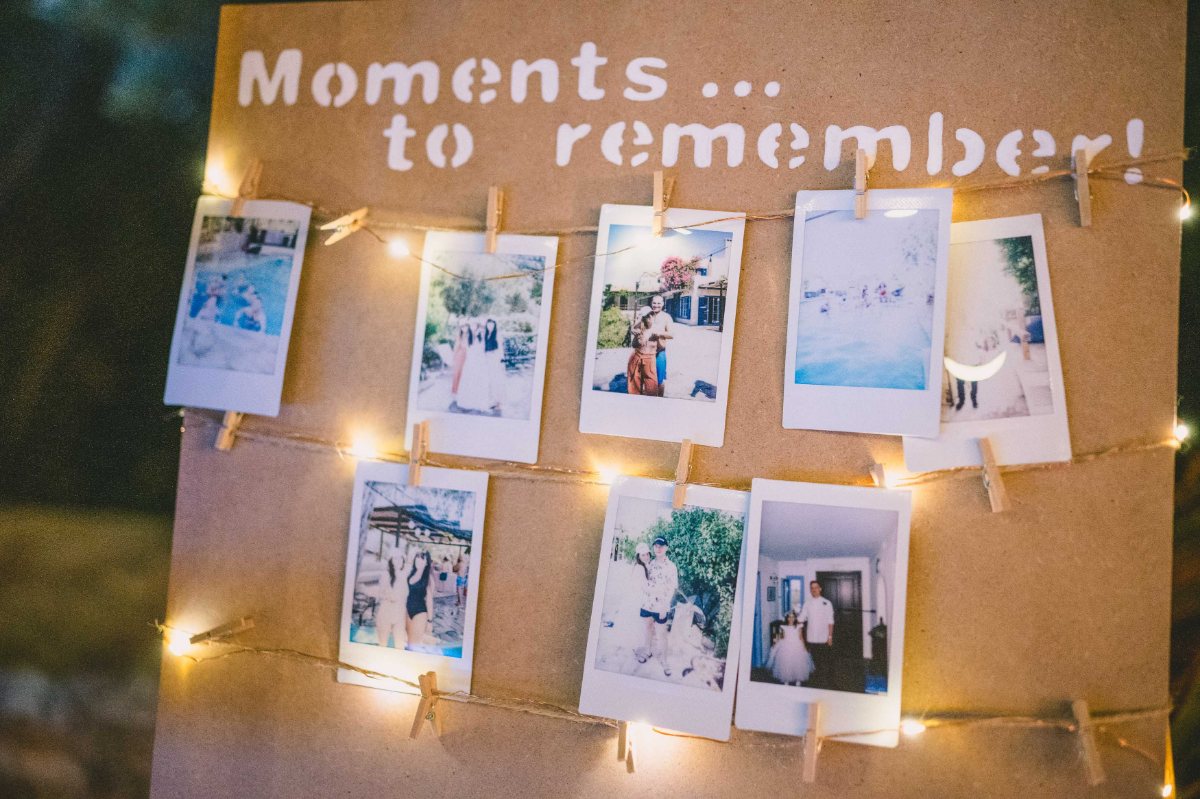 Wedding Escort Cards
Escort cards don't have to be limited to paper. Write them on something else entirely or pair them with a fun accessory. Also, having an Escort Card Display is very important! Don't relegate your escort cards to the table — show them off in a creative display! Thinking of adding a Seating Chart? You can Skip the escort cards altogether and opt for a seating chart as a chicer alternative – we will help you! 
Kids' Table
Don't forget about the little ones! How we are making sure they are happy and content if they are invited to a wedding? We Leave crayons and a coloring book at their table so they can stay entertained! We will advise you on the matter in our wedding planning in Greece journey so you can make the choice that's better for you.
Wedding Place Cards
Who said place cards had to be on paper? Cut the costs and write them in beautiful calligraphy on a tropical leaf to carry out your wedding theme. Bonus points if you swap placemats out for monster leaves as plate chargers.
Wedding Table Settings
A table setting can consist of much more than dinnerware and linens. We are always paying extreme attention to make your table settings next level! Spruce them up with accents, such as ribbons, trims of greenery for an extra touch, or different decorative elements! Our team will help you in finding the best for you! 
Also, we love to get creative with your napkin settings. A simply folded napkin pocket makes all the difference — and can hold your menu, making it both functional and aesthetically pleasing to the eye or an elaborate knot may be better for your style. Our experience as a wedding planner in Greece really shows if you browse our wedding collection!
Chandeliers
Whether you choose one as a single statement chandelier or a handful, chandeliers add sparkle and class to any reception. We love incorporating chandeliers to the wedding designs, making everything look that much classier and luxurious! Loving this design for your wedding day? We can help you!
Unique Elements
It's the quirky and the unique that truly lends your day a touch of your own personality. Add surprising elements to give your wedding some flair. Also, another way of adding beautiful detailing to your wedding day is to make the line at the bar go more quickly with a sign that provides all the drink options before guests even get to the bartender. Guests will appreciate not having to look for the bar, too! 
All those elements of décor, thoughtful planning, and unique touches are why you need an experienced wedding planner at your side when planning a destination wedding in Greece! A luxurious affair to charm you and your quest is our specialty, and we will make this an unforgettable experience!
Our Philosophy
For us, each wedding is unique. Our top priority is to transform the couple's vision into a dream wedding. We always respect the couple's ideas and opinions. But when it comes to styling, then our professional experience takes over and leads the creative journey. We will help you to have the most glamorous wedding day, full of pretty details and luxurious elements. Our team can provide a complete wedding design, starting with the venue research, curating the wedding theme and flower decoration, help you choose stationery, as well as wedding favors and welcome gifts, pick the right music, photographer, videographer, and professional lighting. Also, we will be on your side while picking the perfect wedding dress, the best MUA and Hairstylist, the most delicious wedding cakes and luxury desserts, and the menu for your wedding reception. Wondering what previous couples say about us? Take a look at our Testimonials!
We are committed to ensuring that every aspect of your celebration reflects your style, respecting your original budget, and making sure everything runs smoothly on your wedding day. We look forward to making your dreams come true for your luxury wedding in Greece! Contact us to book your date!